Check out our cool mist humidifier reviews, comparison charts and buying guides to help you buy the best cool mist humidifier for a healthy, hearty home.
Best Cool Mist Humidifier for Home Use
TaoTronics Cool Mist Humidifier: The TaoTronics Cool Mist unit a top of the line ultra-quiet ultrasonic appliance with the best overall feature set of all the units we reviewed. It has a noise level of under 38 so it's not going to keep the family up at night. It's full of high-end features but retains a reasonable price. The balanced combination of convenience, robustness and advanced features, makes this unit our top overall pick.
Pure Enrichment MistAire: This humidifier employs ultrasonic technology in a compact, inexpensive unit, making the MistAire Ultrasonic Cool Mist Humidifier our preferred value for money budget pick. It will quickly get your home or office comfortable and healthy while it keeps ticking for hours on end while the convenient 360-degree mist nozzle easily aims the flow of mist in the direction where you most need to moisture the air.
Quick Navigation
In this roundup, we look around and pick seven of the best available cool mist humidifiers available. The units we review are small and portable and meant to artificially increase humidity levels in a room or in a limited number of rooms. They use what is commonly referred to as cool mist or ultrasonic technology that generates a fine vapor mist with a ceramic diaphragm that vibrates at an ultrasonic frequency creating water droplets. The mist is forced out of a nozzle by a small fan.
An infusion of clean, filtered humid air can be a godsend and keep you and your family from getting constantly sick during the winter months. Keeping your house humidified cuts down on the amount of coughing and symptoms of sickness and will keep your airway moist, catching and trapping germs before they can make your loved ones sick.
Here, we look at some of the top-selling cool mist units and pick the best available unit overall as well as the recommended unit for people who are on a tight budget.
Best Cool Mist Humidifier for 2018
---
In-Depth Cool Mist Humidifier Reviews
 This ultra-silent TaoTronics Cool Mist model is our top pick from among all the humidifiers we've looked at in our roundup. With a noise level of under 38 dB, it's one of the quietest units available, so it won't keep the family up at night. It's full of high-end features, but retains a reasonable price, like a microporous filter cartridge, adjustable vapor and humidity levels, and a high-capacity four-gallon water tank for up to 15 hours of non-stop misting.
The model also referred to as the TT-AH001, filters out allergens like magnesium and calcium ions, as well as bacteria and other microorganisms using its easy-to-clean eco-friendly, microporous ceramic cartridge that never needs replacing. The unit constantly monitors humidity levels and only emits moisture as needed, preventing over-humidifying, so there are no worries about mold spores.
Your family, and especially the babies and young children in the house, will get a good night's sleep with this unit, and not only because of the ultra-low noise level. It has a sleep mode that will turn off the night light to minimize visual disturbance, a timing function that programs humidity levels for up to twenty-four hours, and three mist intensity levels: low, medium, and high, with a rotatable 360-nozzle that orients the mist flow just the way you want it, and uniformly distributes moisture.
The unit has a range of 66-82-square ft., so it'll quite easily mist up a number of spacious rooms.Other great features of this TaoTronics unit are its visual LED humidity level display, a big 1.1-gallon capacity water tank, that will provide 15+ hours of adjustable humidification, and automatic low-level protection shutoff when it runs out of water.
This is the perfect humidifier for dry winter climates or air-conditioned rooms. It hydrates your skin and keeps it moisturized, and its ability to keep air fresh gets rid of microbes that can cause colds or bronchitis. The balanced combination of robustness and features of this unit make it our top overall pick.
Specs and interesting facts:
Dimensions: 14.5×10.3×7.1 inches
Weight: 4.79 lbs.
Capacity: 1.1 Gallon (4 liters)
Maximum working time: 15 hours
Power rating: 30-watts
Warranty: 1-year
---
This classy mist-based humidifier from URPOWER is a great pick if you want a high-end unit that's efficient, convenient, and looks good in your room.  It's very easy to operate, has a large five-liter water tank, a useful night mode for quiet and lightless operation, an automatic shutoff function, as well as other functionality that make this a good option for discriminating buyers.
If you or anyone in your family suffers from allergy, lung or upper respiratory problems, you'll definitely appreciate this appliance. It's also ideal for people with dry skin, nose bleeds, and sinus problems.
The manufacturer's recommended 40-60% environmental humidity range for the humidifier is well within most people's comfort zone if you're living in a dry winter climate or have AC in summer.
It's on the high end of autonomy compared to other humidifiers at 17 hours, which means it will operate all night and a good portion of the day and has a maximum misting volume of 350ml/hour.
The unit is easy to clean by using mild detergent dissolved in water and a cleaning rag. Recommended minimum weekly maintenance involves lightly cleaning the transducer, base unit and a rinse-out of the water tank.
The manufacturer also suggests that you use cooled boiled water or distilled water to minimize salt deposits and that you should replace used water inside the base and water tank frequently to keep it clean.
This humidifier's excellent design with a pretty matte-black finish, large water capacity, autonomy, and quiet unattended operation, means that you'll be getting a top-performing high-end unit at a reasonable price.
Specs and interesting facts:
Dimensions: 16.2×10.1×7.8 inches
Weight: 4.55 lbs.
Capacity: 5 liters
Working time: 14-17 hours
Power rating: 30-watts
Warranty: 1-year
---
The MistAire Ultrasonic Cool Mist Humidifier is sleek and has plenty of functionality given its compact tabletop size. It will quickly get your home or office comfortable and healthy while it keeps ticking for hours on end. Its price is among the lowest of the units we've checked out on this roundup and it stands out as the best value for price pick.
This unit counts with MistAire's 'Ultrasonic Cool Mist' technology that can quietly run nonstop for up to sixteen hours, resulting in unattended overnight operation and for most of the following day.
It has a medium-sized 1.5 liter (50.7 fluid ounces) water tank with an easy-fill opening.  A convenient 360-degree mist nozzle lets you easily aim the flow of mist in the direction where you most need moisture.
You can use distilled or previously filtered water or get an optional decalcification filter for the unit to keep the deposited mineral free and clean. A brush is included with the unit to clean the base. You should do a daily empty out of the base and tank and a rinse and weekly cleanout with a vinegar solution.
The MistAire is not built for large areas but will keep a large room or couple of small rooms well humidified (up to about 200 square feet). Other great features are the unobtrusive night light, its lightweight portability and detachable cord mean that you can take it along on a trip to a cabin getaway.
MistAire stands behind this product with a two-year manufacturer's warranty and 7 days a week customer support center. This is the humidifier to get if you have a limited-sized area in mind and you're on a tight budget but still want a great performing humidifier that's loaded with features.
Specs and interesting facts:
Dimensions: 10.9×9.2×6.9 inches
Weight: 1.75 lbs.
Capacity: 1.5 liters
Maximum operating time: 16 hours
Warranty: 2-year
---
The HumeXL Ultrasonic is a highly-rated, high-end mist humidifier that stands out for its quiet operation, outstanding mist intensity control, classy industrial design with intuitive touch-button controls, dual independent 360-degree mist nozzles, and a large water tank. It has the longest warranty of any of the units in the roundup, so you can be sure the manufacturer stands solidly behind their unit.
The around-the-clock moisture provided by the HumeXL results in more than two days (50 hours) of non-stop mist when you leave it on low setting, which will be more than adequate for smaller surface areas. The high setting will give you sixteen hours of max misting. The unit's automatic shutoff feature turns the unit off when the 1.3-gallon water tank's level is low or when remove it manually.
A user-friendly and intuitive touch-button control panel is mounted on the top-front of the unit. It has LED lighting incorporated and contains controls for power, high and low mist intensity settings.
There's also a night mode setting that will dim the LED lighting so it won't bother you while sleeping. The two mist nozzles are located opposite of each other and function independently and rotate 360-degrees, so you can easily cover a wide area of your living space with humid mist.
The front-mounted, easy to handle water tank is easy to clean up by using a damp rag with detergent water and rinsing so residue and salt build-up won't be a problem. HumeXL's 7 days a week customer care support will help you out with problems you may experience, and the five-year warranty is by far the most generous of any of the competition.
Specs and interesting facts:
Dimensions: 8.9×5.9×14.4 inches
Weight: 5.9 lbs.
Capacity: 1.3 Gallon (5 liters)
Power rating: 27-watts
Max moisture output: ≥300ml/h on high; ≥100ml/h on low noise: <35dB
Warranty: 5-year
---
Vicks is a well known worldwide maker of mist humidifiers and being part of Procter & Gamble lends it quite a bit of credibility. This low-cost budget model, also referenced to as the V4600, is one of the best selling of Vick's range of humidifiers.
It's attractive looking and has a very small footprint, doesn't require changing filters, and runs for up to 30 hours on low setting. It's quiet and very easy to use with its variable humidity control. This unit is the lowest priced of all the ones we've looked at in our roundup and would be an excellent pick if you're on a limited budget.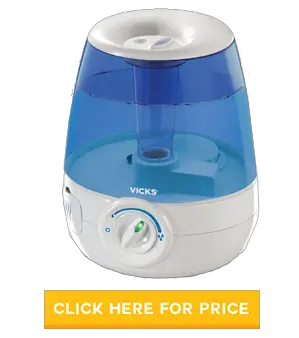 The unit's blue translucent tank is pleasant to look at and holds quite a bit of water at 1.2 Gallons, which can humidify a medium-sized room continuously for up to 30 hours.
The tank has a rather large opening so it's easy to refill and to rinse when cleaning. You should make sure that you always use filtered water to minimize buildup, although Protec Demineralization cartridges are also available separately from Vicks to help remove mineral deposits that tend to build up in the tank.
You might want to use the optional Vicks VapoPads scent cartridge slots, a sample of which is included when you buy the unit to get additional relief when your suffering from cold or have other respiratory or cold symptoms.
The mist produced when these cartridges are used in the unit make it easier to breathe and to clean up breathing passages, resulting in restful, relaxing sleep. Three scented pad types are available with differently scented vapors: Sleepy Time Menthol VapoPads, Lavender, and Rosemary.
A variable humidity control dial is mounted on the front of the unit to help easily regulate the intensity and coverage of the mist. The unit is light and has a small footprint and comes with a small handle on the tank for easy maneuverability of the tank when you need to fill it or rinse it out.
Vicks' 3-year warranty is also a good indicator of the quality of this unit, which we think is an excellent budget choice.
Specs and interesting facts:
Dimensions: 10.9×9.4×13.5 inches
Weight: 4 lbs.
Capacity: 1.2 Gallon
Power rating: 27-watts
Warranty: 3-year
---
This cool mist humidifier from Honeywell is a rather large-sized, higher-end unit that uses evaporative technology rather than the more common ultrasonic systems used by other units in the roundup. This makes it slightly quieter as it doesn't have a vibrating membrane (Honeywell claims 25% quieter operation).
It does cover a rather large surface area with its powerful mist nozzle, so it's great for large-sized houses and does a great job of filtering out and cleaning bacteria and other pathogens from the water vapor. It's a bit pricier than most but may very well be worth the price given its robustness and advanced features.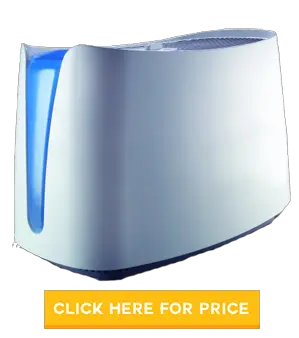 The Honeywell HCM350W is not just a good dehumidifier, but a top-notch unit when it comes to health benefits like providing relief for dry skin, allergies, flu and upper respiratory problems.
It keeps your house free of dust and germs for spaces up to 500 square ft. and will put out 2 Gallons worth of moisture per day. The evaporative wick that sits in the water tank is efficient and self-regulating, adjusting vapor flow as needed.
An ultraviolet light source kills harmful pathogens in the water before they're sent out as mist and a replaceable antimicrobial filter prevents the growth of fungus and other germs in the tank.
It's clear that other humidifiers we've looked at in this roundup don't have quite this level of health-related features. The unit does lack, though, an automatic shutoff valve for when the tank runs out of the water, which may result in overheating if you don't monitor it.
The HCM350W has three-speed settings to let you adjust the vapor output and also the amount of noise the unit will make. The unit does not produce any white dust derived from mineral deposits, so no additional cleaning is needed beyond occasionally replacing the filter. Filters should be replaced after every two months of use to avoid mold buildup. It ships with one extra replacement filter and two ProTec Continuous cleaning cartridges.
Specs and interesting facts:
Dimensions: 19x13x10 inches
Weight: 9.75 lbs.
Capacity: 1.1 Gallon
Power rating: 50 watts
Warranty: 3-year limited warranty
---
This cool mist humidifier from TaoTronics is at the mid-point of our roundup both price wise and regarding features and performance. So if you want a well-balanced and not overpriced dehumidifier this would be your best choice. It runs very silently and doesn't have any shiny lights for unobtrusive night-time misting. It comes with a powerful ceramic filter, dual 360-degree rotating mist nozzles that will cover a large area, easy-to-use control knobs, LED indicator and a large capacity water tank.
The unit's extra-fine ceramic filter gets rid of impurities in the water, filtering out bad odor and harmful bacteria at a molecular level. This results in clean, pure water vapor without the need to add chemicals or essential oils and scents to the mixture.
Two mist nozzles are built-in, which rotate and concurrently function sending out mist in two different directions. Their mist output of 0.08 gal/hour is pretty high and quickly fill up a large room or suite of rooms (up to 270 square ft.)
A tank capacity of almost 1 Gallon, together with the intensity control knob allows unattended operation for as many as five nights without refilling the tank on low setting, and up to ten hours at higher settings.
Cleaning is pretty easy, you can clean the outside with a damp cloth and the tank can be rinsed. The filter and base should be cleaned with a vinegar solution and finished off with the included brush and a rinse (the filter is non-replaceable).
The unit's lone control knob is used to turn it on and off as well as to set the humidification mist level and an LED shows that it's turned on. It doesn't have a night light and only includes the dim green LED on the base that doesn't reflect light into the tank as happens with many other humidifiers, so if you're a light sleeper you'll have no troubles.
The Taotronics model is a fine unit at a reasonable mid-range price that we would recommend for users who want a fine mister at a balanced combination of features and price.
Specs and interesting facts:
Dimensions: 8.74×8.03×12.20 inches
Weight:  2.5 lbs.
Capacity: 3.5 liters (0.95 Gallons)
Power rating: 30-watts
Warranty: 1-year (+6-months extension if you register)
---
Cool Mist Humidifiers Buying Guide
Here's a brief buyer's guide to help you make the right choice.
Mechanism
The humidifiers we've looked at have a lot of characteristics in common. They all use the same basic mechanism for generating cool mist vapor, a ceramic diaphragm that vibrates at an ultrasonic frequency and generates water droplets. The mist gets forced out of a nozzle by a tiny fan and reaches out to suffuse the room and increase the overall humidity in the air.
The piezoelectric transducer used in the unit create a high-frequency oscillation that generates an extremely fine mist from a film of water. The water droplets that make up the mist are tiny, only one micron in diameter, and are evaporated and helped along by the fan, causing a humid air flow.
Filtration
The water, which is contained in a plastic reservoir, often a transparent one, can contain minerals and other materials that, if vaporized and aspired can wind up getting in your air passages with negative health effects. For this reason, you should use previously filtered or distilled water. Some models include reusable or disposable filters or demineralization units, so you can use regular tap water. In any case, you should perform regular cleansing of the base and filter with vinegar or citric acid to avoid mineral buildup.
Type of Humidifier
Before you buy one of these cool mist units you should be aware that there are other types, namely warm mist humidifiers, that are preferred by some consumers. They claim that it's easier to breathe heated vapor if you're congested, and it may have other advantages like slowly raising room temperature. Warm mist units can cause a safety hazard as they heat up and boil water and they consume more energy than the cool mist variety.
Water type available in your home
You should also check out what kind of water you have available on your tap where you live. Places with hard water will benefit greatly from a demineralization filter, or from distilled water. Costs for replaceable filter cartridges and other add-ons like bacteria treatment cartridges can add up, so extraneous costs like these should be taken into consideration when deciding which humidifier you should buy. Be sure to follow manufacturer's maintenance recommendations when it comes cleaning and consumables to avoid getting mold, bacteria, and other pathogens in your mist.
Best Cool Mist Humidifier
TaoTronics 4L/1.1 Gallon Cool Mist Humidifier

URPOWER Cool Mist Ultrasonic Humidifier

MistAire Ultrasonic Cool Mist Humidifier

HumeXL Ultrasonic Cool Mist Humidifier

Vicks Filter-free Ultrasonic Visible Cool Mist Humidifier 

Honeywell HCM350W Cool Moisture Humidifier 

TaoTronics 3.5L/0.95 Gallon Ultrasonic Cool Mist Humidifier
Summary
With a large capacity, great runtime, unmacthed durability and more importantly a quiet operation, the TaoTronics Cool Mist Humidifier becomes our top cool mist humidifier for 2018. A buy you won't regret.
However, if you're looking for something on the cheap yet functional the Pure Enrichment MistAire is our top value for money pick.