Love fried food? Worried about the growing waistline?
Our in-depth air fryer reviews will help you choose the best air fryer on the market so your favorite fried foods are equally yummy yet healthy.
Best Air Fryer for Home Use
Philips XL Air Fryer: This air fryer isn't just about healthy cooking, for paying up a premium you'll get a complete package. With multiple cooking modes, 50% larger capacity and a recipe book right from the kitchen of chef Gordan Ramsey, your food cravings will be well taken care of.
FrenchMay 3.7 Qt Air Fryer: However, if you're looking for a cheaper and compact air fryer for occasional use the FrenchMay Air Fryer offers the best value for money. While compact it can still hold 3.5 quart worth of fries and its simple functionality makes it a set it forget it air fryer.
Quick Navigation:
Do you love fried food but worry about what it could be doing to your health? Never fear — the air fryer is here.
Air fryers have been rapidly gaining in popularity as a healthy way to enjoy fried food, often using as little as a single teaspoon of oil to cook up to two pounds of fresh or frozen ingredients.
And though all air fryers use similar air circulation technologies, they all have different features. Below you'll find a list of the seven best and most popular air fryers, in addition to what makes them so special.

Best Air Fryer for 2018
---
In-Depth Air Fryer Reviews
The Philips Airfryer is the original brand of air fryer. First highlighted by Oprah and then supported by none other than Gordon Ramsay, it's easy to see why the Philips XL Airfryer remains the most popular brand. This version of the Philips Airfryer comes with an extra large capacity, perfect for cooking large meals.
50% Increased Capacity for over 2.5 Pounds of Food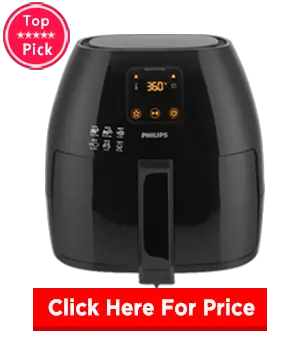 If you need to fit 2.65 pounds of fries in your fryer at once, the Philips XL Airfryer is likely to be your best (if not only) option.
An increased capacity size means that you can cook your foods faster and serve them fresher, as you won't need to cycle through multiple batches. The Philips XL Airfryer is perfect for those who want to make meals for larger families.
Exclusive Recipes from World Famous Chef Gordon Ramsay
Once you've got your Airfryer, you need to know what to do with it. Gordon Ramsay has joined up with Philips Airfryer to create some exclusive recipes, which are available only through its purchase.
These recipes are designed to be both fast and healthy, including turkey sliders, tiger shrimp, and glass noodle salad, chili and coffee rubbed ribeye, and kale and chicken salad.
Sometimes there are benefits to buying the original; the Philips Airfryer has been fine-tuned and developed for longer than any other air fryer device. But you might not necessarily need to cook 2.65 pounds of French fries at a time. If you want a smaller fryer, the Philips Airfryer original might fit the bill.
---
The T-Fal ActiFry Low-Fat Healthy Air Fryer boasts an impressive 2,000 customer reviews at an average of 4.3 stars on Amazon, making it one of the most highly rated air fryers available. Just about comparable in price with the Philips Airfryer original, the T-Fal has a unique, clear-cased design that makes it distinct.
Visibly Cook Up to 2.2 Pounds of Food at a Time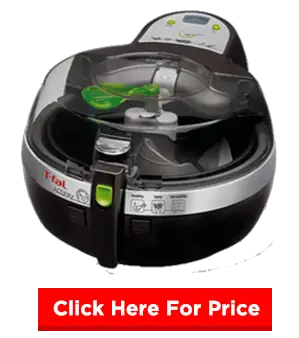 The T-Fal ActiFry can cook up to 2.2 pounds of food at a time, which is enough for most moderately sized or large families.
But even better, the T-Fal ActiFry has a completely transparent top, making it easy to check on your food and make sure that it's cooked completely through. This is something that even the original Philips Airfryer doesn't have.
Easy to Clean With a Nonstick Pan and Dishwasher-Safe Parts
All the parts that need to be cleaned on the T-Fal ActiFry can be thrown into the dishwasher, making it easier to clean. One of the hassles of an oil frying machine has always been trying to get rid of the oil; the T-Fal ActiFry does not use enough oil to make it difficult to clean.
Further, the interior removable ceramic-coated pan is made to be non-stick and easy to wash, making the entire device exceptionally low maintenance.
Where the T-Fal ActiFry really shines is both in its ability to be quickly cleaned and the ability to view your food while cooking. But it is also still a little expensive.
Those who just want to dip their toes into the air frying market could consider the Avalon Bay instead, which strikes a nice balance between features and cost.
---
Maybe you don't want to spend too big on a new electric fryer and neither are interested in the fancy thrills and frills. The compact, small FrenchMay Air Fryer doesn't just have a simple and compact form function. It also has some interesting features that can make cooking easier and to top it all of
8 Cooking Presets for Fast and Easy Preparation
Chips, chicken, steak, meat, cake, fish, and warm-up are all featured as cooking presets for the FrenchMay air fryer.
That means that you don't need to do any guesswork when trying to cook your food; just pop it into the air fryer's bin, turn it on, and select the appropriate setting. Even the device itself has been streamlined, containing only a single basket to use.
A Small, Compact Form Factor Suitable for Any Kitchen
The FrenchMay isn't just simple, it's also small and has a very compact form factor, which is vital if you're trying to conserve your kitchen space. Even so, it's still able to cook a total of 3.2 quarts of food at a time.
One of the most affordable Air Fryers on the list, the FrenchMay Air Fryer is a "set and forget" machine that has easy to use presets and a very simple design. Price-wise, its closest competitor is the BLACK+DECKER 2-Liter Air Fryer, which is an easy way to cook small amounts of food quickly.
---
In most respects, the Philips Airfryer original is exactly like the XL — it's just a little smaller. That means that it can fit easily on a standard kitchen counter and that it's easier to clean and operate.
Compared to other air fryers, the Philips Airfryer is a little more expensive. However, it also has experience and innovation on its side.
Fast, Even Cooking through Unique Patented Design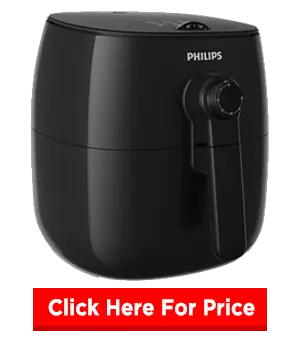 How does the Philips Airfryer manage to fry food without immersing it in oil? The answer lies in its patented starfish design, which mixes oil with hot air and then circulates it throughout the interior.
The oil still makes the food crispy and delicious while avoiding the use of too much oil. Because of the way that the air fryer works, it can be used for any type of fried cuisine… including foods that couldn't otherwise be immersed in a traditional oil fryer.
A Special Cookbook With Over 150 Recipes
With every new appliance, there's a bit of a learning curve. Rather than guessing or trying out untested recipes, you can get a special cookbook with 150 recipes that are specifically designed to be used with the Philips Airfryer.
The Philips Airfryer has been in the business longer than any other, and they've managed to develop a comprehensive list of the best air fried recipes.
The Philips Airfryer is a perfect air fryer for those who believe they want to invest in air frying cooking. But what about those who are a little more casual about it and want to try it out before they invest? For those individuals, the compact FrenchMay Air Fryer is an excellent budget alternative.
---
Available in black, black and silver, red, and white, the Avalon Bay Airfryer can be perfectly customized to your kitchen's needs. The Avalon Bay Airfryer offers a lot of different types of frying options, all in a fairly compact and even portable device.
Removable Baking Pan, Rack, and Detachable Mesh Basket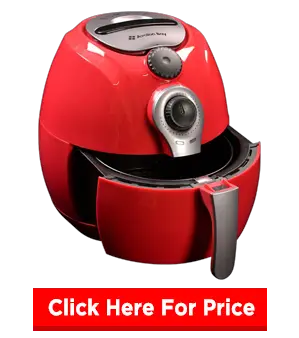 The Avalon Bay Airfryer comes with a baking pan, rack, and mesh basket, for all of your cooking, baking, and frying needs.
This makes the device more versatile than others right out of the box, as it can support all of the different types of cooking that you may desire.
The pans, racks, and baskets are all easy to remove and can be cleaned in a standard dishwasher.
30 Minute Timer and Nonslip Feet Improves Safety
One of the major concerns with any frying device is safety. Though you may use less oil with the Avalon Bay Airfryer than a traditional fryer, there's still hot food and the potential for splatter.
The Avalon Bay Airfryer comes with non-slip feet to ensure that the device doesn't slide off the counter, and it will switch to standby mode automatically when cooking has been completed. This both increases convenience and reduces the chance that the device might stay on too long.
Like many of the other air fryers on this list, the Avalon Bay Airfryer comes with an included recipe book to make it easier to find the right foods to cook. The Avalon Bay Airfryer is an excellent mid-range fryer, in terms of cost, and has enough options to be a good all-around appliance.
---
With a bold, modern design, the BLACK+DECKER 2-Liter Oil Free Air Fryer is a very impressive appliance for the price.
Affordable, small, and easy to use, the BLACK+DECKER Air Fryer nevertheless comes with some impressive features, such as variable temperature control and dual convection fans. It's an easy way to get food that's been cooked just right each time.
Dual Convection Fans for Faster, Consistent Cooking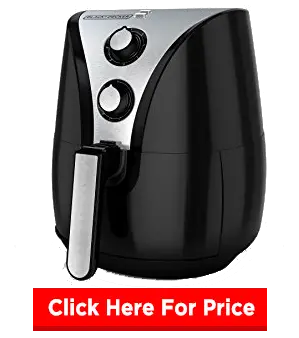 The dual convection fans in the BLACK+DECKER Air Fryer is designed to further improve circulation, ensuring that all of the food within the appliance cooks both quickly and evenly.
Dual convection fans will also ensure that the device heats up faster and that the results of the frying are as crispy as desired.
60 Minute Timer & Variable Temperature Control 
The BLACK+DECKER Air Fryer is one of the few fryers that has a 60-minute timer available as opposed to a 30-minute timer.
That makes the BLACK+DECKER Air Fryer easier to use for longer, lower temperature cooking. In addition to timers, the variable temperature control also allows for a range of food between 175 degrees to 400 degrees.
The BLACK+DECKER Air Fryer is a versatile air fryer that can be set at any time and temperature and is definitely one of the best options for the price. Though it may not be quite as large as the Philips XL Airfryer — or have some of the bells and whistles of more expensive fryers — it definitely gets the job done.
---
The GoWISE USA Air Fryer is undoubtedly simple. With a direct, straightforward design and a classic appearance, this air fryer consists of nothing more than a basket and a few control knobs.
But that doesn't mean that it isn't a useful and versatile device — far from it. TheGoWISE USA Air Fryer has features to spare, all designed to ensure the most precise cooking.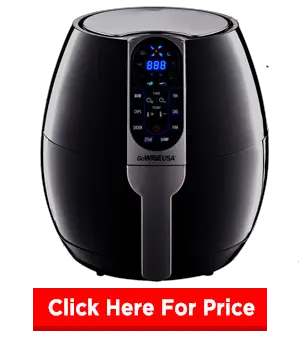 Excellent Temperature Control 
The air fryer can be set at any temperature from 170 degrees to 400 degrees, making it suitable for everything, slow cooking food and quickly frying food, it can handle it all.
These temperature controls are easy to set and provide better precision so that you can get the right results each and every time. This takes away some of the unpredictability normally associated with frying food in oil.
Overheat Protection and a Standby Timer for Better Safety
The last thing you want is for your fryer to overheat. Not only could that ruin your food, but it could also start a fire.The fryer comes with overheat protection, which will automatically turn it off if the heat gets too high. There's additionally a standby timer that will automatically shut the device off after cooking has been completed.
Minimalism and simplicity were in mind when creating the GoWise USA Fryer, which is a perfect entry-level air fryer for those who are new to the technology. Though it may not be quite as advanced as the Philips Airfryer, it's substantially less expensive.
Best Air Fryer
Philips XL Air Fryer

T-Fal FZ7002 ActiFry Air Fryer

FrenchMay 3.7Qt, 1500W Air Fryer

Philips TurboStar Airfryer 

Avalon Bay AB-Air Fryer 100R

BLACK+DECKER HF110SBD Air Fryer

GoWISE USA 3.7-Quart Programmable Air Fryer
Summary
Need the absolute best air fryer? With the Philips XL Air Fryer you'll have exactly that. It's large capacity, unmatched functionality and free recipe book will keep you and your guests munching all day long.
However, our budget pick the FrenchMay 3.7 Qt Air Fryer doesn't lag too far behind in terms of features or capacity and offers great value for money.