Find our electric griddle reviews, comparison charts and buying guides to help you buy the best electric griddle for home and commercial use.
When you want to cook food quickly, you want a griddle. Griddles are essentially large, temperature controlled pans, which make it easier to cook food in a consistent and restaurant-quality way. There are many smaller electric griddles available in addition to premium flat top surfaces. Here are some of the best options in 2017.
The top electric griddles to buy in 2017
---
When you want to setup a restaurant-style griddle station in your very own backyard, the Blackstone 28 Inch Outdoor Flat Top Gas Grill Griddle Station is the answer. Available at an affordable price and in an attractive, low-profile format, the Blackstone Outdoor Griddle Station lets you cook restaurant-style meals at any cookout.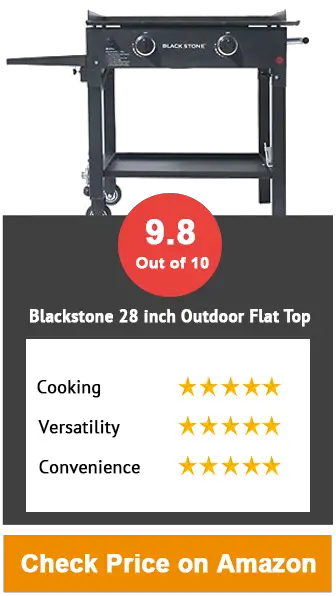 470 Square Inches of Perfect Griddle Cooking
Restaurants use griddles because they are easy to clean and efficient to use — it's like having a giant pan that you can grill everything on at once. The 470 square inches of the Blackstone Outdoor Griddle can be used for scrambled eggs, pancakes, and Teppanyaki-style cooking.
Easily Transportable With Fold Up Legs and Industrial Wheels
You probably don't want a griddle set up in your yard all year — and there may be times you want to set up a griddle at a neighbor's house, a tailgating party, or even a campsite. This gas-powered grill can be taken down easily, with its fold-up legs — and it can be easily moved with its industrial wheels.
Push Button Ignition Makes It Easy to Use and Easy to Setup
Rather than having to light charcoal and wait for it to get heated, the push-button ignition provides an easy start to your grilling or griddling experience. Other grills need a lot of work to get started: this griddle is fast to setup, which means that you can start cooking immediately.
Not too expensive and not too cheap, this is one of the best griddle options for those who want to grill in their backyard or at a camp site. But it is a little large and heavy for those who just want to grill quickly. For those, the Presto 07047 may provide a better option.

---
Large, impressive, and restaurant quality, the Vollrath 40715 is what you want to invest in if you take your griddling seriously. This electric countertop unit is designed to provide the perfect griddling surface — and it's priced to show it.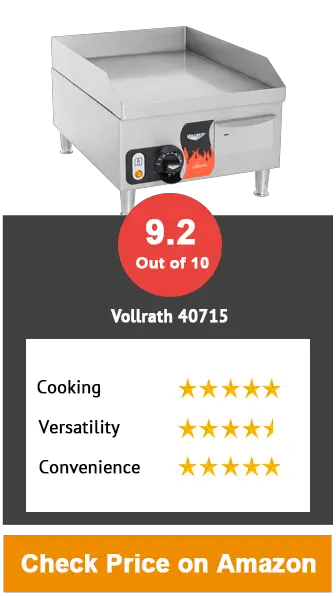 Made for Restaurant Production
Make no mistake: the Vollrath isn't intended for home use even though it can be used for it. The Vollrath is a restaurant-quality griddle, made for areas in which a built-in griddle might not be suitable. This is designed for coffee shops, diners, and other venues that may need to cook food but might not have a built-in kitchen and that means that it has the power to spare.
Versatile Enough to Cook Any Food
The Vollrath is best used for breakfast foods, but it can also be used for steaks, burgers, seafood, and more. It produces even heating that can be controlled up to a temperature of 570 degrees, which means that it can be delicate enough for fish and produce a sear enough for the best steaks.
A Cooking Surface of 15 by 11 by 20
The Vollrath has a huge cooking surface, which is ideal for those who are cooking for a lot of people at once. This is an excellent model for those who are cooking at volunteer kitchens or those who need to cook in their small business. It can also be good for larger families.
The Vollrath is an industrial model meant for industrial purposes: but that doesn't mean it can't be at home in a residential kitchen. It's overkill for many purposes, but for those who take their griddling seriously, it could be a perfect solution.

---
If you want a premium version of the George Foreman GRP4800R, then you're looking for the George Foreman GRP4842MP. Not only does this include grilling and griddling plates, but there are also waffle plates included for crispy, deep-pocketed waffles.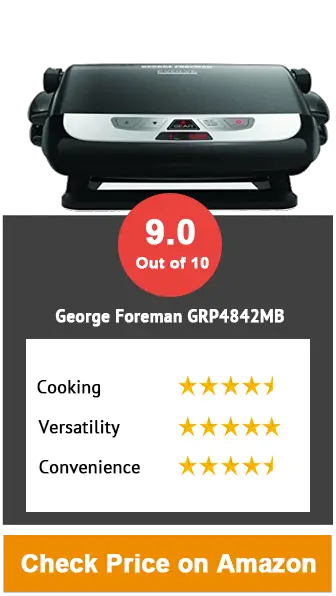 500 Heat Searing Burst Makes for Better Results
This grill is able to sear at 500 degrees for 90 seconds, which produces restaurant-quality results in the home. This is particularly useful when searing meats in order to lock in their flavor; it can be used after the meat has been cooked to produce a char on the exterior.
A Digital Control Panel for Perfect Temperature Control
Grilling is all about controlling the temperature. The digital cooking display can display temperatures between 325 degrees to 450 degrees, depending on what you're cooking and for how long. You can fine-tune the temperature of eggs, meat, vegetables, and more.
Removable Plates That Are Dishwasher Safe
The George Foreman doesn't just gain utility through its set of removable plates — it also improves ease of cleaning. The plates in the George Foreman can be removed and thrown into the dishwasher, so there are very few things that you need to clean after you're done.
This is primarily a grill rather than a griddle, with waffle plates included rather than the deep-dish baking tray. Nevertheless, its high-powered searing burst and digital control panel make it perfect for electric grilling, waffles, and paninis.

---
Get everything cooked right with this classic George Forman GRP4800R Multi-Plate Evolve Grill. This George Foreman is more than just a griddle; it can be used as a grill, panini press, muffin pan, and bake dish. And, of course, it can also be used for griddling.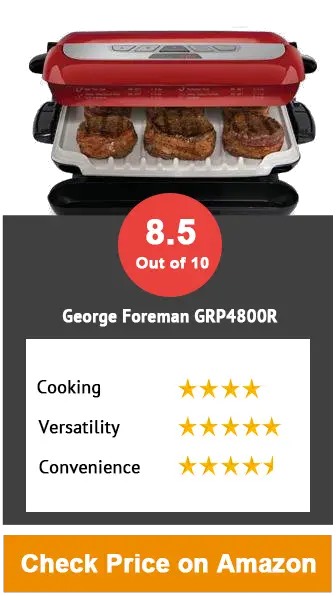 Get Four Plates With a Single Grill
This George Foreman Grill comes with a classic grilling plate that can be used for oil-free grilling. In addition to this, however, it has a special bake dish. This baking dish can be used for both baking and for griddling, as it provides a flat surface on which cooking can be done. As a bonus, you can also make sandwiches and muffins.
An Adjustable Cooking Angle Gets the Best Cook Each Time
By being able to adjust the cooking angle,  you can cook different foods perfectly each time. You can lay it flat if you're griddling or you can set it as a slope if you're draining fat from meat. The slope is adjusted easily through a knob that's positioned in the back.
Makes up to Five Servings at a Time
Griddling is useful because you can control the amount of food you make. Unlike using pans, you don't have to worry about clean up at the end. The griddle plate included with this George Foreman can handle up to five servings of food at a time, so you can cook multiple things for multiple people.
This all-in-one grill and griddle system is a perfect appliance for those who are looking to consolidate their tools. As an additional bonus, it's available at a reasonable price.

---
Sometimes you just want a simple appliance that can do absolutely everything — and when that time comes, you want the Cuisinart 5-in-1 Griddler. This griddler is available at a reasonable price and has 4.5 stars over 7,405 reviews on Amazon.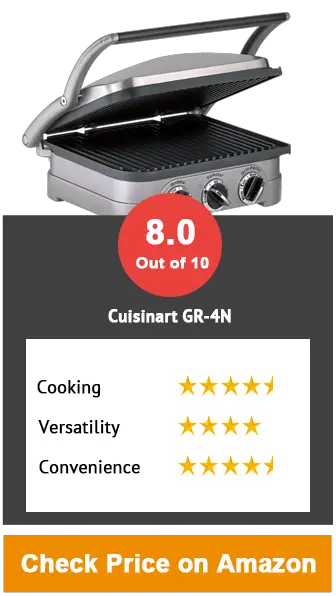 5-in-1 Means an Appliance With a Lot of Utility
This appliance can be used as a contact grill, as a full grill, as a griddle, as a half griddle and half grill, or as a panini press. That means that no matter what type of cooking you want to do, there's a setting for that — greatly reducing the amount of appliances you need and the amount of clutter in your kitchen.
Recipes and a Special Tool Included
When you're griddling, it's usually not only for a high-quality meal but also to save time. The Cuisinart 5-in-1 Griddler also comes with recipes, so that you can easily make a variety of restaurant-style foods without having to look up your own directions.
Adjustable Temperature Controls Ensure a Good Quality Cook
The fully adjustable temperature controls range across three dials so that you can control each area separately and so you can make sure that everything cooks appropriately. When used with the griddle, this means that you can cook different types of food without having to worry about temperature fluctuations.
Though this may not have the power or the features of a restaurant-class model, it makes up for it in utility. It may not be the best griddle, but it's by far one of the most diverse and versatile appliances available for the home kitchen.
Electric griddles are a great way to make cooking fun, fast, and simple. There are many griddles available from the most affordable to the most expensive, ranging from tabletop griddles to full restaurant-style griddles. The best options depend on what you want to cook most.

---
If you want a simple, affordable, and attractive griddle, the Ginny's Brand Tabletop Electric Grill/Griddle will probably give you everything that you need. Built on a firm base that can be positioned anywhere, this grill/griddle is specially made to be used on a common household table.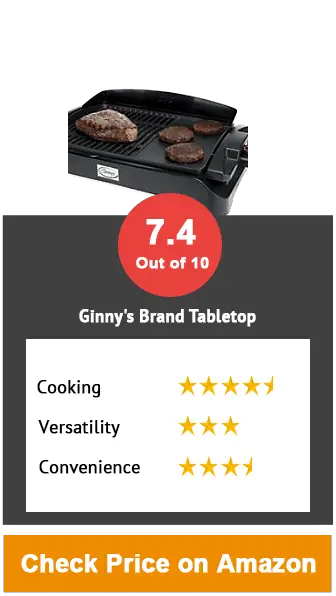 Adjustable Heat Between 200 and 400 Degrees
For the best cook, you can adjust your heat between 200 and 400 degrees. 200 degrees can be used to warm and toast bread, whereas 400 degrees can be used to cook things such as breakfast meat. The heat can be easily adjusted anywhere within this range so that you can fine-tune the heat for better results.
Grill or Griddle as Desired on Your Own Tabletop
The Ginny's Brand Tabletop offers both a grilling surface and a griddling surface. The grilling surface will drain food, so it can produce char marks on meat such as steak and burgers. The griddling surface functions more like a pan, which can be used to cook both burgers and other food such as vegetables and eggs.
Easy Washing With Dishwasher Safe Drip Pan
The dishwasher safe drip pan can be easily removed, while the rest can be safely hand-washed — which means that the unit itself never has to leave the table. This 1500 watts grill provides a very stable grilling and griddling surface and can be used safely indoors.
Above all, the Ginny's Brand Tabletop is one of the most affordable options available — it's nearly as affordable as the Presto but with a far more solid and durable build. If you want something that's a little more "fixture" than "appliance," this could be a good option.

---
7th Pick:  Presto 07047 – Most Affordable Grill
Cheap, safe, small, and above all apartment friendly, the Presto 07047 Cool Touch Electric Griddle provides a small and easy griddling surface for anywhere. Whether you're in a dorm room or you're staying in a hotel, the Presto 07047 can easily fit in.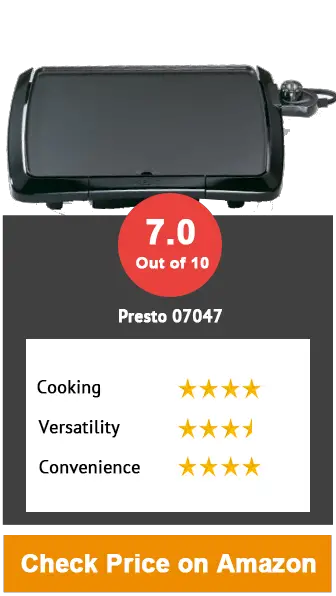 Low Profile Design Makes It Easy to Griddle Anywhere
The Presto Cool Touch can be used anywhere, from on a kitchen counter to on a dining room table. In fact, it can even be used on a desk. The low profile design means that it's only a few inches tall, so it can be comfortably used in even the smallest of kitchens.
Single Surface With Slide Out Tray Makes It Easy to Clean
When you're griddling, you probably just want to get your meal done fast and easy. The Presto Cool Touch has a slide out tray that can catch grease — so that the unit can be cleaned easily. The surface of the griddle can be wiped off with a damp washcloth and you're already done.
Large 10.5 Inch by 16 Inch Cooking Surface
You can cook just for yourself or for multiple people on the Presto Cool Touch, which comes with a large 16-inch wide cooking surface. The cooking surface is large enough to cook breakfast, lunch, and dinner foods all at once, so you don't need to use multiple plans and implements.
Available at an extremely affordable price, the Presto Cool Touch is a perfect entry-level griddle for those who just want an easy, flat cooking surface that can be used anywhere. Though it doesn't have many advanced features, it's one of the cheapest options available.
---
Top electric griddles to buy in 2017
Blackstone 28 inch Outdoor Flat Top

Vollrath 40715

George Foreman GRP4842MB

George Foreman GRP4800R

Cuisinart 5 In 1 Griddler

Ginny's Brand Tabletop

Presto 07047
Summary
If you're looking for an electric griddle that's perfect for both home and commercial use our top pick is the Blackstone 28 inch Outdoor Flat Top. It's easy to use and comes with 470 Square Inches of cooking area. Also it's durable wheels make it easy to move around.
If you're on a budget and don't want to miss out on the yummy grill goodness our top pick is the Presto 07047. It's easy to use, easy to clean and will cost you less than $50.